Kenny - Carroll can be star | Sky Sports | Liverpool News | Football | Premier League
Kenny - Carroll can be star
Anfield positivity shines as record signing is officially unveiled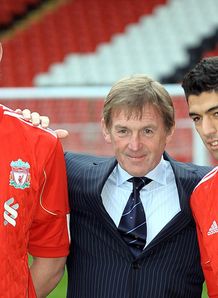 Liverpool manager Kenny Dalglish is not concerned about record signing Andy Carroll dealing with the weight of expectancy that comes with a £35million price-tag.
The former Newcastle
No.9 moved to Anfield on transfer deadline day as a replacement for Fernando Torres,
who joined Chelsea
in a £50m deal, while Luis Suarez
has also arrived from Ajax.
Much has been made of the fee paid for Carroll, who only became a Premier League first-team regular for Newcastle, last season's Championship winners, in the opening six months of this season.
But Dalglish has no doubts that the 11-goal 22-year-old, having made his England debut against France in November, will be able to live up to expectations.
The Liverpool
manager told a press conference: "I would like to reassure Andy that we are more upbeat about Andy coming than I think yourselves are.
Anxious
"Every single question has got negativity in it. We don't see any reason whatsoever to be negative in any shape or form about Andy signing for Liverpool football club.
"It is a great signing for us, as is Luis. It is fantastic for us."
Liverpool's parent company, Fenway Sports Group, deemed Carroll met their recruitment criteria of age, potential and marketing value and he was duly paraded at Anfield before kick-off in Wednesday's win over Stoke, when Suarez scored the second goal.
The Gateshead-born striker then took a seat in the stands due to his ongoing thigh injury, which is expected to keep him sidelined until the end of February, and Dalglish is excited about the prospect of his eventual recovery.
He continued: "We are looking forward to it, really looking forward to getting him fit, up and ready and working and I'm sure he is anxious as well. He has just got to be conscious of the fact that he doesn't push himself too hard.
Fantastic potential
"So we'll look after him, get him fit and he will play when he's fit and ready.
"He has got fantastic potential. He is already part of the England squad and he's the best person we could have got in here to play with the No.9 shirt.
"And at such a young age, when you consider what he has gone through, he wore the No.9 shirt at Newcastle, which is a fantastic honour and he can wear the No.9 here as well.
"That is a lot to carry on your shoulders and he showed by what he did at Newcastle that he is capable of doing that. Anybody who can wear that shirt up there and score goals has got a chance.
"We know he is a young boy. We know the price is maybe a bit more than what some people think it should be. But then every single person in here (the press conference) has got to justify their wages and their cost.
"So, if you can do that for yourself, then I'm sure he can do that for himself."